Sasha
Information
Kanji/Kana
沙亜紗/さーしゃ
Unaltered Name
Sasya
Age
10 (AT2)
12 (AT3)
Height
4'1" / 127 cm (AT2)
4'4" / 132 cm (AT3)
Weight
57 lbs / 26 kg (AT2)
74 lbs / 34 kg (AT3)
First Appearance
Ar tonelico II: Melody of Metafalica
English Voice Actor
Erin Fitzgerald (AT3)
Sasha (沙亜紗(さーしゃ), Sāsha) (Sasya in JP version)
Owner of the General Store near Rakshek. She is very fond of Croix and Cloche, and looks like she has a little liking to Luca, too. She usually refers to Croix as "Cro-nii" and Cloche as "Cro-nee" in Japanese version, and calls them "Brother Cro" and "Sister Clo" in English.
Ar tonelico 3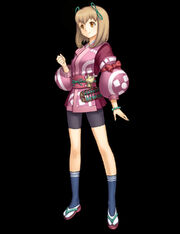 Now older, Sasya came to Sol Cluster with Cocona. She opened a synthesis store called "Nyanya Shop" in the Kanpaihachi Hot Springs.
Trivia
Her age given in the US version of Ar tonelico Qoga is 15.
Ad blocker interference detected!
Wikia is a free-to-use site that makes money from advertising. We have a modified experience for viewers using ad blockers

Wikia is not accessible if you've made further modifications. Remove the custom ad blocker rule(s) and the page will load as expected.