| | |
| --- | --- |
| 秘蔵画像プチ公開! こんにちは、土屋です。ほたる横丁町民会報「ゲームでは語られることのない、 設定思惑裏の裏!」第5回目です。今回は、設定資料集から漏れてしまった、とある原画をお届けしますね。 というわけで、ちびミシャのSD原画です。 ちびミシャの全身ディテールは設定資料集で掲載されていませんでしたので、 このページでのみの公開となります。 | Reveal of a Little Secret About one of the SD Images! Hello everyone, Tsuchiya here. This is the fifth issue of the Firefly Alley Citizen BBS special "we won't be talking about the game, but about the secrets of the secret setting intentions!". This time around, I'll be showing you all a certain original picture that missed getting published on the setting materials collection. That is, the original picture for Young Misha's SD version. As we didn't publish all of Young Misha's details on the book, we'll be unveiling them here on this page. |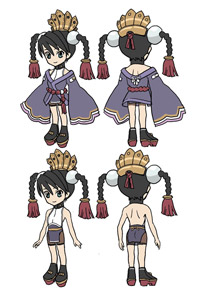 という感じで、今回の町民会報は終了です。 次回は、先日の続きでアンケートの結果発表第二弾!「PHASE.2アンケの結果レ ポートVol.2」をお送りします。 それでは、また!

And that said, this issue of the Citizen's BBS comes to its end.
Next time, we'll continue where we left off the other day and go with the second part of the results report for the Enquete. In other words, it'll be the "Report of the Results of the Phase 2 Enquete ~Vol. 2~ ". Well then, I'll see you all later!
Ad blocker interference detected!
Wikia is a free-to-use site that makes money from advertising. We have a modified experience for viewers using ad blockers

Wikia is not accessible if you've made further modifications. Remove the custom ad blocker rule(s) and the page will load as expected.